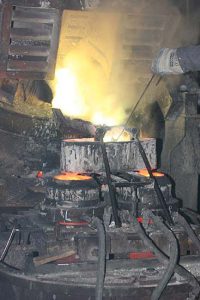 We employ this casting method in its continuous and semi-continuous form and are thus able to produce poles, bushes and flats. Our specially-developed production method enables us to achieve quality values approaching those of the centrifugal casting method.
Our Düsseldorf location maintains a huge stock of solid, concave, flat and square bars of various dimensions and alloys in pre-turning and pre-planing quality. This warehouse allows us to offer you on-demand and just in time delivery – often on the purchase order date!
Technical configuration:
Vertical continuous casting machines
Poles and bushes from Ø 21 – 353 mm in diameter; plus custom dimensions
Length up to 3,000 mm
Alloys: Cu Sn7 Zn Pb, Cu Sn 12, Cu Pb 15 Sn, special bronzes
large-scale warehouse
For a complete overview of all dimensions and alloys that are always in stock and ready for pick-up, please also see our stock list.